Vision 2025 - One year on
22 Nov 2017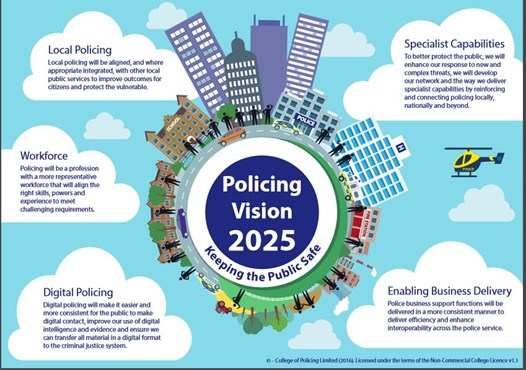 Last November the Policing Vision 2025 was launched setting out the plan for policing over the next ten years. Police chiefs and Police and Crime Commissioners are now implementing a transformational programme of reform.
The Home Office has committed over £69m from the Police Transformation Fund this financial year to projects including:
New multi-agency teams in Lincolnshire, Wales, Durham and Derbyshire involving police and social, health, education and community services addressing the causes of crime and anti-social behaviour and responding to victims of domestic abuse


An extra £20 million over three years to grow a network of undercover officers to target offenders grooming children online for sexual exploitation.


Uplifts in funding to increase the numbers of firearms officers and strengthen regional organised crime units to support the fight against organised crime.


A Transforming Forensics Programme giving crime scene investigators their own frontline analytical tools with streamlined laboratories and biometric services to deliver complex forensic casework.


National investments in digital policing platforms, through the Digital First and Digital Public Contact Programmes, to enable citizens to report crime and track their cases online.


Investments in a common national business platform, cloud infrastructure and shared procurement services so forces can work collaboratively using common equipment - saving money and time.


The College of Policing trialling a national medical welfare service for police officers.


Projects being run by the London Mayor's Office for Policing and Crime and Suffolk are trialling new recruitment and assessment centres and examining best practice approaches to attracting a diverse workforce.
Paddy Tipping PCC, Chair, Police Reform and Transformation Board said:
"One year on from the launch of the Policing Vision, I am encouraged by the energy and collaborative working that's taken place so far. Substantial progress has been made. We are working together to set the agenda for reforming policing locally, regionally and nationally. With an additional forty-four reform projects, we are on our way to achieving our goals in the Vision. By funding innovative ways of working, we are preparing policing for the future.
"We remain focused on finding the opportunities to work better together where they are there. We are under no illusions that reform requires strong leadership and that is what the Police Reform and Transformation Board is determined to deliver.
"We need to rise to the new challenges of policing, ensuring that we balance how we police neighbourhoods with how we police the new communities on-line. As more crime is committed online both now and into the future we need to look at the how we can make cyberspace a safe place for our citizens and communities. This requires a big shift, but our transformation reform programme is building the capabilities for the future, which local forces can all share."
National Police Chiefs' Council Chair, Sara Thornton said:
"Launched one year ago, our Policing Vision 2025 is our joint view on police reform.
"Since then we have developed a strong transformation programme which has developed new capabilities to tackle online child abuse and modern slavery, a transformational approach to forensic services, the opportunity to procure basic office services and digital platforms together and a commitment to share a range of specialist capabilities at a regional level.
"These initiatives will all help to tackle the challenges we face from criminal, terrorist and digital networks in 2017 and beyond. There is still much to do together and we will work at pace to get there, with the board identifying and commissioning projects that will be most effective in achieving our vision."