UK policing as prepared as possible for a potential no-deal EU exit
11 Oct 2019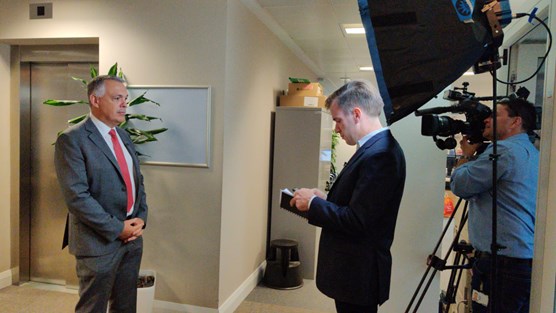 Police across the UK are well prepared for the country to leave the European Union with or without a deal, the two police chiefs leading law enforcement planning have said.
Preparations for a potential loss of EU tools and powers are now complete. A new unit, the International Crime Coordination Centre (ICCC), created in September 2018 has established a network of officers with expertise in international policing to assist frontline officers in using contingencies in the event of a no-deal EU Exit.
A no deal exit would mean UK law enforcement losing access to the Schengen Information System II (SIS II), the European Arrest Warrant (EAW), the European Criminal Records Information System (ECRIS), Europol and the European Investigation Orders.
National Police Chiefs' Council Lead for Brexit, Deputy Assistant Commissioner Richard Martin said:
"We are well prepared for EU exit, and better prepared for a no-deal exit than we were in March or April. We have used the last six months to mature our contingency planning, speed up processes where we can and train around 10,000 officers in using alternative arrangements. This includes discussing legislation with the Home Office that would close the capability gap we currently face around the power of arrest if we lose the ability to use the European Arrest Warrant (EAW).

"We are ready to use alternative arrangements to the current EU tools and powers, but they are not like-for-like replacements. In all cases the replacements are slower, less effective, and more bureaucratic for officers than our existing setup.

"Existing EU tools allow us to respond quickly and intelligently to crime and terrorism impacting the UK and the EU - they make us better at protecting the public. We want to avoid leaving without a deal because that would see us lose access to those important tools.

"Our relationship with our European counterparts remains strong and we will continue to work together in the interests of UK and EU citizens."
Operational plans for a range of potential scenarios, including protest, crime and emergencies, have been finalised and tested.
Officers have been taking part in exercises with colleagues from other emergency services and local resilience forums (LRFs) to ensure a joined-up response.
The National Police Coordination Centre (NPoCC) has also tested their established plans to move officers around if necessary, through mutual aid. This process is routinely used multiple times a year.
National Police Chiefs' Council Lead for Operations, Chief Constable Charlie Hall said:
"Our planning considers what might happen and the worst-case scenarios. We are not predicting these outcomes, but we are preparing for them.

"We expect protests to occur, whatever the outcome of our exit from the EU. We are prepared to police protest activity across the country. Protests to date have been predominantly peaceful and we will continue to monitor intelligence in our efforts to ensure this continues.

"We will always seek to facilitate the right to peaceful protest, balancing the right to protest with disruption to local communities. We work with protest organisers to achieve this.

"The public can help us keep protests safe by being vigilant for anyone or anything that looks out of place or suspicious and reporting it to a member of staff, security or police.

"Police are trained and equipped to maintain public order and have established plans to surge officers within force or mobilise officers across the country if necessary."
Police forces will be keeping records of costs arising from operational planning to leave the EU but it is not yet possible to give an estimate.
Annual leave embargos are in place in 26 forces. There is currently no plan to issue a national embargo on leave. This position is under constant review and each chief will be looking at their own local situation.