The Duke of Cambridge says there's more to do to help first responders look after their mental health
05 Sep 2017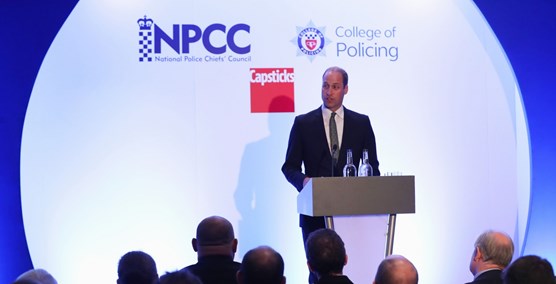 Speaking today at a national police conference, the Duke of Cambridge offered his assistance in helping the police and emergency services get the right support to help them cope with the pressures of the job.
The HRH Duke of Cambridge said:
"You are skilled at helping people in extreme distress - so you should be looked after just as much.
"I will be convening representatives of the emergency services to consider ways in which society might better support the work you do. The tragedy at Grenfell, and the conclusion of my work as an Air Ambulance pilot, spurred me to look into doing what I can to support you in a practical way.
"The reason I think all of this is important is that being a first responder is tough enough as it is. These pressures are not going to go away. Therefore, it is properly essential you are equipped to withstand the realities of 21st century policing. If more openness about mental wellbeing is part of the solution, as I believe it is, then I would like to help you with that."
The second national mental health and policing conference, hosted by the National Police Chiefs' Council and College of Policing, brought together 230 delegates from policing and health services.
The national police lead for mental health, Chief Constable Mark Collins, opened the conference. He called for creative thinking from police and health services to develop effective interventions that prevent people reaching crisis point and enterting the criminal justice system.
He said:
"Mental health demand is rising not just in policing but across our whole emergency system and in society as a whole. Police officers have always had a role in responding to mental health and crisis incidents. Some forces have seen a rise of one-third in calls related to mental health, averaging a 26 per cent rise in demand in the three years to 2015.
"Much of policing and mental health is not about major crisis incidents or serious adverse events; it is about the daily challenge of quietly responding to vulnerable people, often collaboratively. But the criminal justice system cannot ever be a shadow system of mental health care – nor should it try to be.
"The cost of prosecuting someone who has committed an offence when unwell and holding them in secure care is extremely high, both for the criminal justice system and health services. While not everything in mental health can ever be predictable or preventable, both policing and health services need to look at how we can do more to intervene early and prevent people reaching crisis point.
"Today's national conference has been a great opportunity to share their stories and learnings but also encourage attendees to think creatively about how, in our respective roles, we can get better at early intervention."
Sarah Newton MP, Minister for Crime, Safeguarding and Vulnerability spoke to attendees about the new provisions in the Mental Health Act:
"It is not necessary to be an expert in this field to be aware of the very high, and increasing, demand for mental health services of all types. Members of this audience will know only too well, that the police can be asked to deal with a wide variety of cases involving people who are unwell and in distress.

"We have taken a number of steps to better equip the police and criminal justice system in this regard – we've heard this morning of improvements to the Liaison and Diversion schemes for example. But the pressures on front line officers to make quick judgements and act appropriately cannot be overestimated.

"We have heard of some great examples today of innovation and all local areas will need to take a careful look at their local provision, in the light of the new legislation, to ensure that it is good enough. They may also need to refresh their local joint working practices to reflect the need to act more quickly and collaboratively to provide the most appropriate help for people in crisis."
Inspector Michael Brown, the College of Policing lead on mental health, also addressed the conference. He reflected:
"This was the first conference since the College published national guidance and training on mental health and the ongoing challenge is to ensure that officers and police staff feel equipped and supported to carry out their duties appropriately and professionally.
"Of course, police forces can't do this alone, that is why this event involved partner organisations from the NHS, third-sector and social services to help us work together to provide those in mental health crisis across England and Wales with the care and support they need.
"It was a huge honour to welcome HRH the Duke of Cambridge to this year's event. His Royal Highness has experience of responding to those in crisis and knows the pressures emergency responders work under – this will help ensure the role of the police in our wider mental health system continues to be highlighted."
For the full speech by The Duke of Cambridge click here: https://www.royal.uk/duke-cambridge-gives-speech-national-mental-health-and-policing-conference