Retired Chief Constable Simon Cole made a tremendous contribution to national policing before his sad death
12 Apr 2022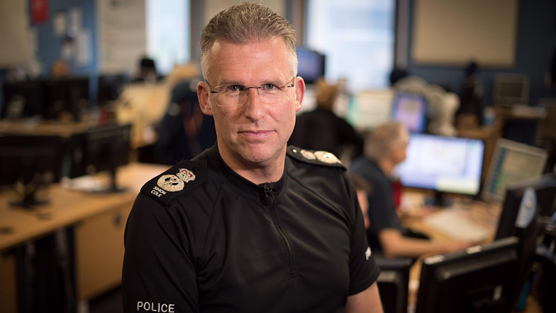 As condolences and reflections of Simon are shared, we wanted to reflect on his contribution to policing nationally.
Simon became Assistant Chief Constable at Hampshire Constabulary in 2003, and Deputy Chief Constable in 2008. In June 2010 he returned to Leicestershire, the county where he grew up, to become the Chief Constable of Leicestershire Police. Throughout his time as a police chief he held many prominent and important national roles. Here are some of the recent highlights.
Simon was national lead for the Prevent programme from 2016 to his retirement in March 2022. Prevent is a government-led initiative which aims to safeguard vulnerable individuals from being involved with terrorism. He led developments in policy, training and case management.
In 2016 he oversaw the development of Vulnerability Support Hubs, which bring mental health experts alongside counter terrorism policing to ensure mental illness and complex needs issues are addressed early on. These interventions help to stop vulnerable people from being criminalised and drawn into terrorism.
Most recently Simon chaired a strategic efficiency and re-investment review change process, ensuring the counter-terrorism network is fit for future and prepared to keep pace with changing threats.
National Lead for Counter Terrorism Policing, Assistant Commissioner Matt Jukes said:
"Simon was a diligent and determined leader in counter terrorism. He was not just the NPCC lead for Prevent, but a clear and enthusiastic advocate for its life-saving work. He was a champion for his colleagues in our teams doing this vital work.

"He was the best kind of critical friend to those of us in leadership positions in counter terrorism, not least to Assistant Commissioner Neil Basu and myself.

"His passion, professionalism and personality will always be appreciated and never be forgotten."
Simon was at the forefront of modernising police digital services for the public. As Senior Responsible Officer for Digital Public Contact from 2016 until his retirement in March 2022, Simon oversaw the implementation of the single online home - a national digital front counter, currently used by 30 forces. It allows the public to report non-emergency crime online and to engage with their local force, better meeting the needs of many people who contact policing, and taking pressure away from 101 and 999 call handlers.
He led the NPCC's local policing committee from 2012 to 2019 with wide responsibility from neighbourhood policing to public contact and engagement. Under his leadership of the local policing committee, the first national neighbourhood guidelines were created with the College of Policing. These evidence-based standards have helped to improve the standard of neighbourhood policing across England and Wales.
He brought increased national focus to the vital work of first response police officers, taking action to support their wellbeing in roles that are busy, challenging and sometimes traumatic and leading greater national recognition of their work. He also supported the development What Works Centre for Crime Reduction in the College of Policing - a network that ensures that the best available evidence on 'what works' to police officers and staff.

National Police Chiefs' Council lead for Local Policing, Chief Constable Olivia Pinkney said:
"Simon expanded the national focus on local policing confidently and with pace. Neighbourhood policing is the bedrock of British policing and Simon led many important developments that improved and modernised it.

"Simon coordinated, cajoled and challenged within policing, within Whitehall, and with wider public sector partners to make change where it was needed. He worked closely health partners and other agencies to ensure we are all collectively better equipped to deal with anti-social behaviour, respond in the right way to people suffering from severe mental health crisis, and engage young people.

"He never gave up, had a forensic mind, a warm wit which disarmed the fiercest interlocutor and a boundless optimism in his work which inspired everyone around him."
In 2015 Simon took responsibility for police use of language services, advising Government and police forces on best practice in use of interpreters and translators. Changes he delivered are helping people who cannot speak English fluently to communicate the police, whether as witnesses, victims, suspects or those needing advice.
Simon was a tireless advocate for Police Sport UK. He was a keen tennis player and chaired PSUK Tennis for 12 years. He became Chair of British Police Cricket in 2017, and the same year became Chair of the British Police Men's Rugby Section.
His contribution to policing was far more than just professional, he was a friend and respected colleague to many.
National Police Chiefs' Council Chair Martin Hewitt said:
"Aside from the enormous impact that Simon had in Leicestershire, Hampshire, and West Midlands Police, he played a significant role on the national stage to improve policing, to keep people safe, and to provide the best possible service to the public.

"Perhaps more importantly from a personal perspective, I reflect on the role that Simon played as a fellow chief officer, colleague and friend.

"He was always supportive, always curious and interested. Always innovative, very often challenging. He did everything for the right reasons and with a smile on his face.

"I know from conversations since the sad news of his death how much he was liked, respected and admired in policing. After over a decade as part of chief constables' council he had great impact on that forum and how it worked - his openness, friendliness, candour and intellectual rigour brought out the best in us all.

"I know I speak for my fellow chief officers when I say we will always be grateful he chose a career in policing, that we had the opportunity to know him and for the significant positive contribution he made as a public servant. "