Police to crack down on drink and drug driving this Christmas
01 Dec 2020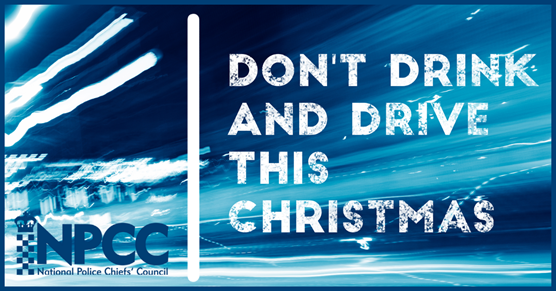 Police chiefs warn that anyone getting behind the wheel after a festive drink or two faces the prospect of ending up behind bars this Christmas.
Police are set to increase their activity targeting those who choose to drink or take drugs and drive as the annual Christmas roads policing operation launches tomorrow (Tuesday 1 December). Officers will be out in force across the UK to ensure road users and the wider community are kept safe from harm this festive season.
Information published by the road safety charity Brake shows that even when someone is only just over the legal limit they are still six times more likely to be involved in a fatal collision than someone who has drunk nothing.
Police will be stopping anyone suspected of drink or drug driving, operating stop sites across the country and performing both breath and drug testing. Anyone found to be over the limit will face the full force of the law.
During last year's operation, which took place over a two-week period in December, more than 30,000 breath tests were taken, of which over 3,231 motorists failed or refused to provide a sample. In addition, 1,175 drivers failed a roadside drug test.
Whilst the initial lockdown saw dramatically fewer cars on the roads, the number of vehicles is almost back at normal levels. This year's drink drive operation comes as research published by Drinkaware showed that some people have significantly increased their alcohol consumption at home during the lockdown.
National Police Chiefs' Council lead for Roads Operations, Commander Kyle Gordon said:
"I understand that this year has been incredibly difficult for everyone, and we all want to enjoy the festive season with loved ones; possibly even more this year than in others. It is certainly not our intention to stop anyone from celebrating during the Christmas period, but it remains a reality that drink or drug driving can, and does, kill.

"Tragically, the Christmas period is the time of the year when motorists seem to accept the risk of drinking and driving on our roads. Disappointingly, it is also the time of year when family and friends seem to tolerate their loved ones taking this risk, when they wouldn't dream of condoning this type of behaviour at other times of the year.

"Drivers must be aware of the risks of getting behind the wheel, not just on an evening when they have been drinking, but also the morning after. Sleeping it off or having a large cup of coffee won't clear the body of alcohol or dull its effects. The only thing that can sober you up is time, and it's safest not to drink at all if you are driving early the next day.

"My advice is the same as always; do not drink or drug drive, and do not let anyone you know do so either. The chances of being caught, put in a police cell and losing your driving licence and your job, is high. More importantly, the risk of destroying a life and causing death or serious injury is also incredibly high."
Officers across the UK will be on patrol morning and night to catch people who flout the law.
Drivers risk up to six months' imprisonment, an unlimited fine and a substantial driving ban if they are caught driving while above the legal limit. Anyone who causes a death while drink or drug driving faces up to 14 years' imprisonment.