Police launch annual push against drink and drug driving during Christmas
01 Dec 2016
The NPCC annual month-long operation against driving under the influence launches today and police forces across the country will be using intelligence-led tactics and local knowledge of hotspots to detect people who are driving under the influence of drugs or alcohol during the festive period.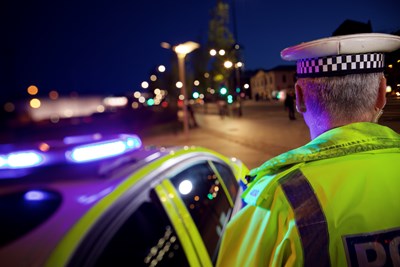 In addition to targeted operations, we will also be sharing social media campaigns designed by police forces, government and charity partners to remind people that it is never worth taking the risk of driving while intoxicated under the influence of drugs or alcohol.
This is the second of two campaigns this year, following on from the summer drink and drug driving campaign when 45,267 motorists were breathalysed with 4,539 (10.0 per cent) testing positive, refused to provide or failed. There were also 2588 drug screening device tests administered, 1028 of which 39.7 per cent were positive.
In December 2015 there were 1888 drug screening tests administered and more detections than ever previously recorded – almost half of people screened tested positive. In the same campaign police forces administered 110,226 breath tests nationally, of which 5,543 were positive, failed or refused.
National Police Chief's Council lead for roads policing, Chief Constable Suzette Davenport said:
"People who get behind the wheel while under the influence of drugs or alcohol are behaving irresponsibly and risking the safety of all road users. Police forces across the country will be dedicating resources to prevent drink and drug driving and catch offenders.
"Don't drive under the influence of drink or drugs. Even a very small amount of drugs or alcohol can affect your ability to drive safely. Don't let your friends and family pay the price."
Further information:
The NPCC campaign will run through the whole month of December, beginning today (Thursday 1 December) and concluding at 2359hrs on 31 December 2016. TISPOL will also be running their European campaign which police forces will also be sharing and supporting from 12 to 18 December 2016.
A March 2016 report from the Parliamentary Advisory Council for Transport has confirmed that alcohol is the most frequent contributor to road collisions, both overall and in fatal incidents. Full report available here: http://www.pacts.org.uk/wp-content/uploads/sites/2/Reports/PACTS%20fitness%20to%20drive%20report%202016.pdf
Last year's Christmas operation was the first to include testing for a broader range of drugs which made it easier for police to detect and prosecute drug drivers.
Explanation ofpositive, refused or failed:

Positive is when a driver is proven by the breathalyser to be over the legal limit
Refused is when a driver refuses to give an officer a specimen of breath
Failed is when a driver offers to give a specimen of breath, but it is not sufficient to determine a result