Police forces support TISPOL's Project EDWARD to minimise road deaths across Europe
21 Sep 2016
Today, police forces in Britain are working together with TISPOL to promote the European Day Without A Road Death initiative (EDWARD). Forces are dedicating resources to raising awareness of road traffic safety, and encouraging the public to pledge and participate.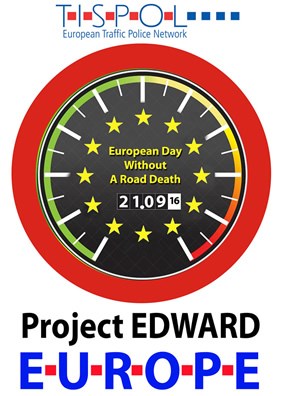 National Police Chiefs' Council Lead for Roads Policing Suzette Davenport said:
"Project EDWARD is an excellent opportunity to work with agencies and policing partners across Europe and we are proud to be taking part.
"We are committed to keeping Britain's roads safe. Today is another chance for police to raise awareness of the consequences of the most common dangerous behaviours by drivers and encourage people to sign up to a simple road safety pledge.
"As more and more people are using their phones when driving, we can't just arrest and prosecute our way out; we have to make it socially unacceptable. Like drink driving, we have to work towards changing people's attitudes through a blend of enforcement and education."
Project EDWARD launches at 8:00am on 21 September 2016. Forces will be dedicating resources to focus on the Fatal Four road behaviours and will also be raising awareness of the Road Safety Pledge.
Make the pledge here: https://www.tispol.org/edward/pledge
For more information on Project EDWARD and TISPOL, please visit: https://www.tispol.org/edward