Police forces encouraged to increase stop and search in a week long operation against knife crime
17 Sep 2018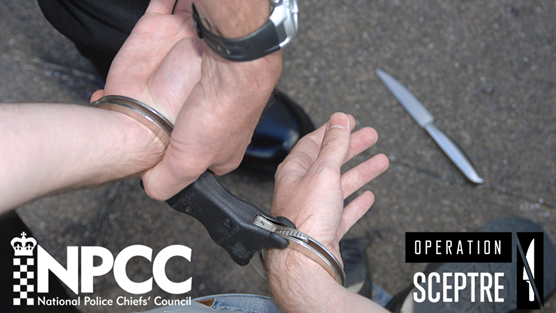 All forces in England and Wales are taking part in a week long operation to tackle knife crime. Operation Sceptre commences on Tuesday 18 September and will see officers increasing their use of stop and search powers, conducting weapon sweeps and targeting habitual knife carriers as well as engaging with children and young people to educate them about the risks of carrying a knife and signpost relevant support services.
Forces will also be carrying out test purchase operations using underage volunteers to ensure local retailers have checks in place to prevent young people buying knives in their stores. During the last Op Sceptre 20 per cent of retailers tested sold a knife to a child.
National Police Chiefs' Council Lead for Knife Crime, Deputy Assistant Commissioner Duncan Ball, said:
"We are deeply concerned about continuing rises in knife crime and the number of young lives that have been lost to stabbings. Policing has a pivotal role in galvanising communities and local agencies to come together to prevent knife crime. Police forces are targeting hotspots and using their powers of stop and search to tackle knife crime.
"Over 4,000 weapons were seized in the last Operation Sceptre and we expect to get many more off the streets in the coming week.

"The causes and drivers are complex. Early intervention to steer young people away from crime and putting in place measures to tackle the root causes is absolutely crucial – we support the emphasis on this in the government serious violence strategy. Policing alone cannot bring down violence without action from government, communities and other agencies."
Statistics released by the ONS in July showed offences recorded by police involving a knife or sharp instrument have increased by 16 per cent nationally in the last year with 36 of 44 forces seeing a rise.

Home Secretary Sajid Javid said:
"Knife crime has devastating consequences for victims, families and communities and I am determined to do everything I can to break this deadly cycle.
"I fully support Operation Sceptre which is a key element of our efforts to tackle knife crime. This nationwide police effort has a major impact on violent crime and emphasises the importance of strong law enforcement being part of our overall strategy.
"In addition to tough policing we must also engage with people early to ensure they are steered towards a positive life. That is why I've doubled the amount of funding available to grassroots organisations to £22m as part of the Early Intervention Youth Fund.
"As Home Secretary, I am keen to work with those who also wish to see the levels of violent crime fall. Whether it is MPs in Westminster or charities in Manchester, it is by working together that we can make the biggest difference."
Notes to Editors:
Statistics from the last Operation Sceptre enforcement week in February 2018.
Overall - 591 test purchase operations were carried out in retail premises by 20 police forces. Of these, there were 469 passes. 122 resulted in the retail outlet failing the test purchase.
● 1212 stop and searches were carried out by 31 police forces, and 615 arrests made by 27 police forces, of these 282 were for knife related offences. Overall, 4104 weapons were seized by 35 police forces.
● 918 weapon sweeps were conducted in 20 police force areas, resulting in the recovery of 175 knives and other weapons. In addition, 3660 knives were surrendered (including in amnesty bins) across 28 police force areas.
● More than 600 education events - including workshops, were also held in schools across 26 police force areas to raise awareness of the dangers of carrying knives.
● Other activities included hot spot patrols and targeting of habitual knife carriers.
Statistics from the Crime Statistics report, to the year ending March 2018 (published July 2018) are available here.