Police credited for "immediate and decisive action to keep people safe" during pandemic
20 Apr 2021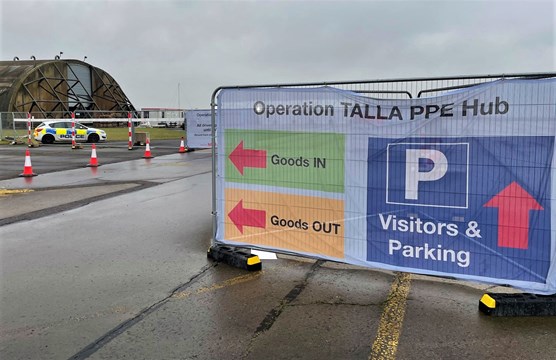 The independent inspectorate of policing has commended officers, staff and volunteers for their "exceptional dedication and commitment" to keeping people safe during the Covid-19 pandemic.
In a report Her Majesty's Inspectorate of Constabulary and Fire and Rescue Services said policing had again demonstrated its ability to respond to emergencies and adapt quickly.
HMICFRS credited the Service's "immediate and decisive action to keep people safe" when the pandemic hit in March 2020.
"Stepping in when many others could not or would not, the police took immediate and decisive action to keep people safe, tackle crime and find answers to problems brought by the pandemic," said HMI Matt Parr.
Responding to the report Chair of the National Police Chiefs' Council Martin Hewitt said:
"This report recognises that the past 12 months has been one of the biggest challenges to face modern policing, and that the service has stepped up and met that challenge head on.

"I'm immensely proud of the way forces across England and Wales have responded to the pandemic. Officers, staff and volunteers have worked very long hours, frequently going above and beyond the call of duty and often putting themselves at great risk, to help keep people safe. I am grateful to every single one of them.

"This report highlights some outstanding examples of where forces have bridged the gap of need in our communities, supporting other agencies or stepping in to provide a service, but of course policing hasn't been limited to the coronavirus. Officers have still been getting on with the job of tackling criminals, protecting the vulnerable and keeping people safe. We've also had to contend with the behaviour of criminals who have sadly used the pandemic as an opportunity to find new ways to prey on the vulnerable members of society.

"Like many other organisations, policing has had to adopt new ways of working and adapt to both following and enforcing new legislation at speed. We haven't always got things right straight away, and we have sought throughout the pandemic to learn as we go and improve the service we provide.

"As lockdown eases and we start to look towards recovery, we will consider the recommendations from this report as part of this learning, working with our partners across government, law enforcement and the criminal justice system."
The full report is available on the HMICFRS website.