Police "committed to doing better" on rape investigations and bring more offenders to court
17 Jun 2021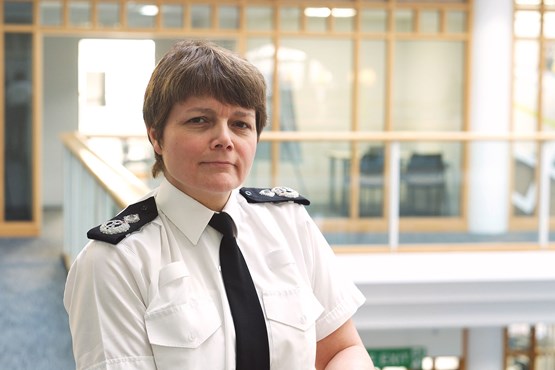 The National Police Chiefs' Council lead for Rape has said the police will implement any recommendations from the end-to-end review of rape that would provide a better service for victims.
Deputy Chief Constable Sarah Crew has responded to the Cross Government Review of Rape which has published an action plan to increase the number of rape cases reaching court.
The full recommendations of the report can be read on the Ministry of Justice website.
National Police Chiefs' Council lead for Rape, Deputy Chief Constable Sarah Crew, said:

"Rape is a devastating crime that can have a lifelong impact on victims. It is one of the most complex investigations police carry out and in recent years the criminal justice system has not been convicting enough offenders, and too few victims are getting justice.

"The end-to-end rape review will assist in work that is already well underway to improve the Police Service's response to this awful crime. It highlights several issues across the whole of the justice system, many of which we are already addressing, and we will act on all its recommendations. Anything that can improve the service offered to survivors will be implemented.

"Police officers join to take dangerous people off the streets and get victims the justice they deserve but, in the case of rape, that has not happened enough. This is incredibly frustrating for all of us and we are absolutely committed to doing better. Changing the system and getting justice for more victims won't happen overnight but I am confident we are moving quickly in the right direction and already making vital improvements.

"In Avon and Somerset we have taken a transformative approach to investigating rape based on strong academic research, which places more of our focus onto the suspect, and I'm pleased to see this project is to be rolled out to more forces.

"I meet regularly with victims' groups and charities who help shape our improvements and I know they will continue holding us and the Crown Prosecution Service to account on progress.

"Survivors of rape who come forward will be listened to, treated with respect and compassion and a thorough investigation will be launched. We will do everything we can to bring a case to court but if the evidence does not allow for a prosecution we will work with other agencies to support victims and take steps to protect the public from dangerous people, like Sexual Risk Orders."
The police and the Crown Prosecution Service have already started work on a joint action plan which is focused on better support for victims, building stronger cases, balancing privacy, additional training for officers and prosecutors and listening to experts.
In Avon and Somerset, DCC Crew's home force, a pioneering and transformative approach to rape investigations has been trialled. Project Bluestone is backed by academic research and will now be rolled out to other forces.