Police call for retailers to stop selling knives to under-18s in advance of a national operation to tackle knife crime
10 Feb 2018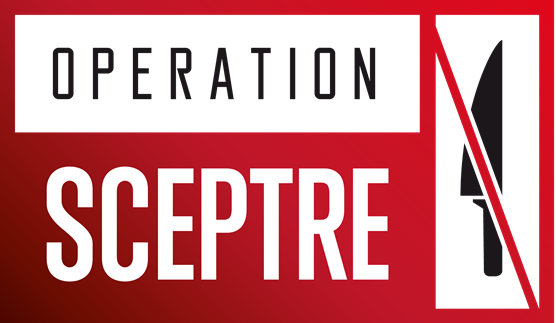 All forces commit to a week of targeting knife crime hotspots, conducting weapon sweeps, engaging with affected communities and testing whether retailers will sell knives to young people.
A national 21 per cent increase in knife crime means every force in England and Wales will join Op Sceptre for a week from February 22 2018.
Two major national operations in 2017 and 2016 saw a total of around 3,900 weapons seized, nearly 1,000 people arrested and 612 test purchases carried out.
The last two major test purchasing operations have shown around 20 per cent of retailers are selling knives to under-18s.
National Police Chiefs' Council Lead for Knife Crime, Deputy Assistant Commissioner Duncan Ball said:
"I want to see retailers recognise their responsibility to help keep communities safe and refuse to sell knives to children.
"Previous test purchasing operations have shown that there are still too many retailers who are selling knives to under-18s - nearly 20 per cent.
"Responsible retailers have signed up to a voluntary code and are asking anyone who looks as though they are under 21 for ID, refusing anyone who can't provide it and telling the police. We want them to continue and for other retailers to follow their example.
"There are many complex drivers of knife crime and we need a broad approach involving public health and education to stop it at source but halting the sale of knives to children is an action we can take now that will reduce the numbers of knives on the streets."
There is also a concern about online retailers. An operation in December 2016 by the Metropolitan Police, the Home Office and Croydon Trading Standards found that a 15 year-old was able to place orders for knives in 93 per cent of attempts with 53 per cent of those progressing to actual sales due to subsequent security measures.
DAC Ball said: "We support the Government's proposal to restrict online sales of knives so they cannot be delivered to a private residential address and must instead be collected at a place where age ID can be checked."
DAC Ball also supported the use of stop and search to tackle knife crime. He said:
"Officers should be confident to use intelligence-led stop and search. It must be done proportionately and respectfully but it is an important investigative tool and we must not have a position where young people believe they can carry a knife without being caught by police."
Minister for Crime, Safeguarding and Vulnerability, Victoria Atkins said:
"This Government is determined to tackle the scourge of knife crime, and it is outstanding that every single force in England and Wales has agreed to be part of another week of action.
"Operation Sceptre has already seen strong results and continues to grow with more knife sweeps, more checks on retailers and ultimately more dangerous weapons taken off our streets.
"Selling knives to under 18s is already a criminal offence which carries a sentence of up to six month sin prison and we have agreed a set of commitments with major retailers to prevent the underage sales of knives more generally in their stores and online. We have also recently consulted on proposals to strengthen the law to make it harder for children to buy knives online."