NPCC Chair Sara Thornton Speech APCC and NPCC Summit 2018
31 Oct 2018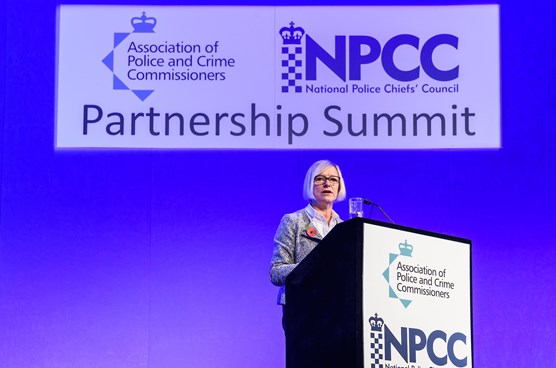 As I welcome you to our fourth joint summit, I wanted to reflect on what we have achieved working together.
Two years ago we launched Vision 2025 and it has been the basis of our joint strategic planning ever since. It is the only national vision for policing and we have developed a broad portfolio of change. The National Enabling Programme and the Digital Policing Portfolio demonstrate that we can work together to modernise our systems and to provide a much better service to the public.
Criticism from the Home Affairs Committee last week of the National Enabling Programme was harsh. Twenty six forces are committed to using cloud services for their core platforms and are jointly purchasing and exploiting the latest Microsoft Office 365. The programme will also deliver a national management centre to counter the growing cyber threat we have to policing. Final business cases have been approved and contracts awarded for both the management centre and for a business partner. The productivity and collaboration benefits from the new platform are significant and the programme is currently on time and under budget.
Similarly, our joint work on serious organised crime funded by the Police Transformation Fund has resulted in greater capability in many areas. For example, all regions now have the ability to go undercover online to catch those who prey on children. In 2016 when we looked at force capability only 23 per cent of forces had effective capability to tackle cyber-crime. Today all forces are developing a capability that will be regionally directed. Initiatives such as these have to be developed jointly and I am confident they would not have happened without the Police Transformation Fund.
As I look back to our first joint summit in Manchester in 2015 - and I got out my notes of that conference - I realised that in some ways not much had changed. The head of the National Crime Agency said "we must build capability as a system not as institutions" and I suspect Lynne will say something similar later this morning. A police and crime commissioner said "we need to decide what we do locally and what needs to be shared across forces on a regional basis." While another said that "forces needed to be mandated to pool resources." A chief questioned the viability of some forces while another quoted Archbishop Desmond Tutu suggesting that we need to stop pulling people out of the water and go upstream to stop them falling in in the first place. My reflection was - plus ça change! A lot of those things we will be saying today.
Last year I asked whether we were starting to see the end of the great crime decline. The latest Crime Survey of England and Wales shows that falling crime over the last decade has indeed halted. Police recorded crime has risen nine per cent. Homicide has hit the highest point for more than 10 years. There's been a 12 per cent rise in knife crime. Robbery has gone up 22 per cent and vehicle theft seven per cent. I take no pleasure whatsoever in reeling off those figures.
While many of the drivers of crime may well lie beyond policing, I am utterly convinced that intelligence-led policing with a focus on prolific offenders and hotspot locations makes a real difference. But fewer officers and staff are able to do less policing – the statistics speak for themselves. Arrests have halved in a decade and the number of crimes where offenders are either charged or summoned is down at nine per cent - the lowest during my service. We are seeing fewer police, less police activity and more crime.
Whether there is a causal link between numbers of police and levels of crime has been hotly debated over the years. Many experiments have demonstrated that focusing police resources on crime hotspots reduces crime and provides reassurance. I've been really interested in some recent randomised trials in Western Australia have shown that if a crime hotspot is unpatrolled for five days then crime is five times higher than in comparable crime hotspots that have 13 minutes patrolling a day.
More police and more police activity would surely result in less crime?
And we all know that policing extends beyond crime. I am grateful to my colleagues in Her Majesty's Inspectorate of Constabulary and Fire Services for sharing the very latest data from 23 forces that has not yet been published. It shows that concerns for safety, missing people and suspicious circumstances now account for 25 per cent of police time. Domestic incidents, not crimes, take up 10 per cent of police time. The data also shows a steady month on month rise in mental health incidents over 2017 and 2018. The peak time for incidents is around 4pm Monday to Friday – likely to coincide with when health services close.
Having described the problem - what is needed?
First, we must remain committed to reform. As Stephen Hawking said "it matters that you don't just give up."
As demand, crime and threats continue to evolve, it requires us to be constantly forming and reforming, changing and reshaping. Police reform is not a criticism of the service but a way to ensure everything we do is relevant and meets the needs of the public as best we can with limited resources.
The changing threat and context requires different investments. I remain absolutely sure that specialist capabilities, like armed policing, major investigations or technical surveillance, need to be developed jointly and managed professionally. It's not effective or affordable to retain these capabilities in every force. Our progress in this area has been too slow but we are saving money by training fewer surveillance officers and using firearms officers more flexibly.
We need to support the National Crime Agency as it seeks to lead the fight against serious organised crime across the whole system. The NCA Director General Lynne Owens and Chief Constable Andy Cooke will share their plans this morning. While we have invested in serious organised crime through the Police Transformation Fund, we have reduced our commitments to the regional organised crime units. We need to step up a gear together.
I would hope that we could do this voluntarily but if not, the Home Office must use their funding lever to ensure that it happens.
Second, we need to refocus on core policing.
The public expect an effective response to organised crime, to terrorism, to the focus on the vulnerable, but they also expect the basics - responding to emergencies, investigating and solving crime and neighbourhood policing. It is this core policing which is seriously stretched. This is surely part of the police covenant with the public?
We are asked to provide more and more bespoke services that are all desirable – but the simple fact is there are too many desirable and deserving issues. For example, treating misogyny as a hate crime is a concern for some well-organised campaigning organisations. In July, chiefs debated whether we should record such allegations even when no crime is committed. It was argued that this information might be useful to highlight the issue, send a message about acceptable standards of behaviour or to put pressure on government. But we do not have the resources to do everything that is desirable and deserving.
I want us to solve more burglaries and bear down on violence before we make more records of incidents that are not crimes. I hope that the Law Commission's review on hate crime takes account of the pressure on forces before suggesting the law is changed.
Historic investigations are another example of issues that matter very much to some but they undoubtedly take resources away from dealing with today's crime today. While I understand those who have been harmed seek answers, I remain unconvinced that it is appropriate to commit significant resources investigating allegations against those who have died.
Neither investigating gender-based hate crime or investigating allegations against those who have died are necessarily bad things - I just argue that they cannot be priorities for a service that is over-stretched. Giving clarity to the public about core policing is a priority – and it has not received enough attention in recent years.
Third, we need to develop a stronger joint strategic plan for policing.
In the last three years, chiefs have worked very effectively with Home Office officials and police and crime commissioners on Vision 2025, the Police Reform and Transformation Board and more recently on joint evidence for next year's spending review. We have made progress but, again, it is too slow.
Recent reports from the National Audit Office and the Home Affairs Committee have strongly criticised the role of the Home Office. While I think the criticism fails to appreciate the deliberate political settlement made with the introduction of police and crime commissioners, I agree that there needs to be an overall view of sustainability, a clear plan for the future and resources to make it happen. This role is not for the Home Office alone but for chiefs, police and crime commissioners and the Home Office working together.
In July 2015 I wrote on behalf of all chiefs to the Permanent Secretary in the Home Office:
"We are very clear that the twin pressures of reducing budgets and changing demand means that we are going to have to make very significant changes to how police forces operate. There was overwhelming support for … the establishment of a Home Office convened and chaired board.
"While chiefs are aware the Home Office has been reluctant to take on this role, they are clear no other national body has the authority to do so and there does need to be a cohesive approach to coping with austerity and developing new capabilities."
Three years ago the answer was "no" and we were asked to be self-reforming. In many ways I think that we have exceeded expectations but surely the time has come for the Home Office to provide greater leadership of the whole system?
Only with concerted effort and a compelling joint plan can we demonstrate to the Treasury, and indeed the Prime Minister, that we have been modernising, we are more efficient and we need more investment in order to protect the public.