New Senior National Coordinator for CT Policing announced
18 Oct 2016
Deputy Assistant Commissioner Neil Basu has been appointed as the new Senior National Coordinator for counter terrorism policing . DAC Basu succeeds Deputy Assistant Commissioner Helen Ball who has performed the role of Senior National Coordinator for counter terrorism policing since August 2013 during a time of unprecedented demand.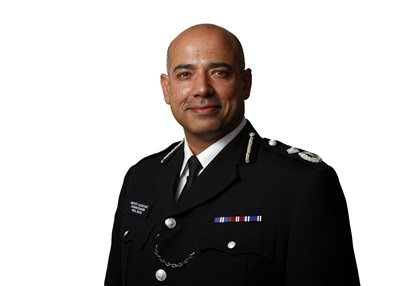 Prior to his new appointment, DAC Basu was the national and London lead for Protection and Security.
Commenting on the appointment, Assistant Commissioner Mark Rowley, the national lead for UK counter terrorism policing, said: "The role of Senior National Coordinator for Counter Terrorism is one of the most important in policing.
"Working alongside our partners, the CT policing network is responding to an ever evolving threat to the UK from international terrorism to keep the public safe.
"Operationally, we have worked at pace and had notable success. Much has been done to reform and improve our operational response and develop new operating models across Counter Terrorism, Protection and Security and I pay tribute to both Helen and Neil for their outstanding leadership during a period of particular challenge."
DAC Ball said: "It has been the greatest honour to serve as Senior National Co-ordinator for CT Policing for over three years.
"Police make an enormous contribution to keeping people safe from the threats of terrorism and violent extremism.
"We have an outstanding relationship with MI5; together we have prevented a number of attack plots which undisrupted would have end in many murders. We stand shoulder to shoulder with our communities in protecting people, and it is a mark of the strength of our relationships with communities that so many people want to work with us and tell us about their concerns.
"We will continue to work to stop radicalisers preying on young and vulnerable people, and on our communities as a whole, and to prevent those who want to injure or kill people from succeeding in their dreadful ambitions."
DAC Basu said: "It's the greatest challenge to public safety and protection that I can see in policing at this point in time, so I think it is right that I step up and build on the outstanding successes and solid platform that my predecessor delivered.
"Helen has developed a closer, more collaborative and world beating network of Counter Terrorism Units with our very close partner – MI5 – a team that has kept us all safe at a time when the threat was growing at such a rapid pace. This has not stopped and will not stop for a generation to come.
"No-one can offer a complete guarantee that we will not suffer a terrorist attack; However I can guarantee I will do everything in my power, working with our partners, to continue to identify and stop terrorism and violent extremism in all its forms, wherever it may be and to prevent an attack on the UK public and our citizens and interests overseas."