Launch of recruitment campaign for 20,000 officers is generational opportunity for policing
05 Sep 2019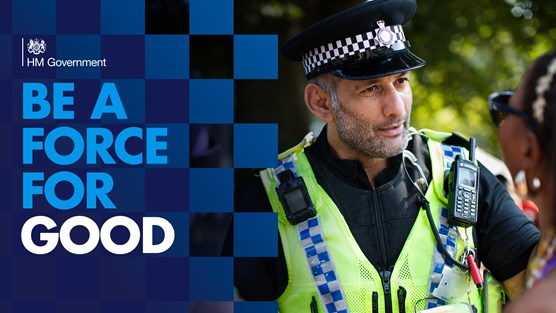 Today the Government has launched the 'Be a force for all' national recruitment campaign to deliver on the Prime Minister's pledge to recruit 20,000 police officers over three years.
A programme team is being established to deliver the project. It will be led by NPCC Chair Martin Hewitt bringing together expertise from policing and the Home Office, and will report to the new National Policing Board, established and chaired by the Home Secretary.
NPCC Chair Martin Hewitt said:
"Today's recruitment campaign launch, and the government funding to deliver it, represents a significant opportunity for policing. This net increase in officers will help us provide a better service to the public, reduce crime, and ease the unprecedented pressure on our people. It will also help us to accelerate our plans to improve diversity in policing.

"It also opens up the exciting opportunity for a career in policing to many more people. If you want a varied career and to make a positive difference in your community, policing could be for you. We want to attract people from a range of backgrounds with a range of skills who will complement the able, professional officers and staff currently working across policing to keep people safe."
The programme is currently working through the detail and practical implications of this unprecedented recruitment. Plans will be developed for attracting and retaining the best staff, assessing and training them, and ensuring they have the right support and supervision.
NPCC Chair Martin Hewitt added:
"Recruiting 20,000 officers over three years is unprecedented. It will require significant planning but we are confident we can fulfil this commitment with the right resources and support from the Government."
More information can be found at: www.joiningthepolice.co.uk