Keep drink and drugs off our roads this summer
01 Jun 2015
NPCC launches national summer drink and drug driving campaign
With summer just around the corner and the prospect of parties around the barbecue in the long evenings, the National Police Chiefs' Council (NPCC) Lead on Roads Policing is warning motorists that police will be on heightened alert to spot anyone driving under the influence of drink or drugs.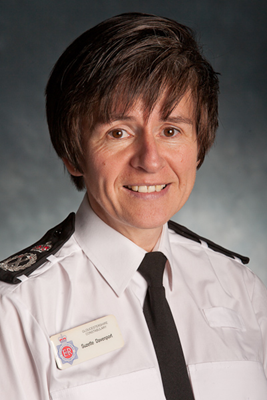 Chief Constable Suzette Davenport was speaking at the launch of the NPCC's annual summer drink and drug driving campaign, which runs throughout the month of June.
She said: "We all enjoy the prospect of the longer evenings and the possibilities they present for socialising in homes, gardens, local pubs, festivals and other events.
"But there is a price to be paid for thinking that, if you drink or take drugs and get behind the wheel, you will still be safe. You will not be safe to drive and pose a threat to yourself and others, and you will not be safe from detection by the police if you try anyway.
"This summer will be the first campaign with new drug-testing kits in place to detect cannabis and cocaine as well as standard kits for alcohol testing, so we are better equipped than ever to detect and penalise those who take this very dangerous risk and, using intelligence received from the public and on likely areas for offending to occur, we will be ready for action to keep the road network safe, whether it be at night or the morning after.
"We are also particularly interested in getting our message out to younger drivers, who may be tempted to think that they remain able to stay in control. Our evidence shows they are more likely to take unnecessary risks.
"Every year, forces around the country deal with families who have lost loved ones because of the recklessness of drivers under the influence and I regard it as a major priority for us to ensure that the numbers of those families left to grieve is reduced year on year.
"I know it is a perennial message that driving while impaired by drink or drugs is not worth the risk, but it is a perennial message for a reason – because it never is worth the risk to yourself, to others, to your future and that of those you could injure or kill.
"So please – have a wonderful summer but be safe and remember: when it comes to drink and drugs behind the wheel, any amount is too much."
Further information:
In the 2014 summer drink drive campaign, 63,688 breath tests were administered, leading to 4108 refusing, failing or testing positive (6.45%). Full results here: http://goo.gl/8BZN16
While fewer breath tests were administered to under-25s this time last year (12,829 compared to 50,622) they were proportionally more likely to refuse, test positive or fail the test (7.5%, as compared to 5.57% of over-25s)
This will be the first national campaign that will include figures from drug-testing kits.