HRH Prince Michael presents Operation Trivium team with International Road Safety Award
13 Dec 2017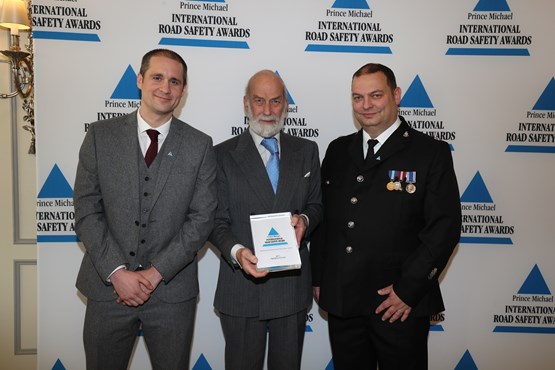 The initiative involving police forces and our European partners has been honoured for its contribution to road safety
A successful cross-border law enforcement initiative has won one of this year's Prince Michael International Road Safety awards. Operation Trivium has for the past four years targeted foreign national offenders who utilise the UK's road network. Results show a clear record of sustained effectiveness over several years and displayed an exemplary use of police resources and international cooperation.
At the Awards Luncheon Ceremony in London, attended by the road safety minister and a number of international leading road safety professionals, HRH Prince Michael acknowledged the outstanding commitment that Trivium has made to tackling road safety issues and presented the Operation Trivium team with his award.
Launched in 2013 by TISPOL (the European Traffic Police Network), Operation Trivium brings together UK police forces and law enforcement agencies together with European partners to focus on mobile criminality and enforcing road safety. Recent operations have utilised a central command centre based in The Hague which enables real-time information sharing between officers to identify individuals and vehicles who utilise the road network but do not abide by UK road traffic legislation and negatively contribute to road safety issues.
To date, the operation has stopped 64,972 vehicles and issued 40,810 enforcement actions including safety advice, penalty notices, 4,348 vehicle seizures and 4,336 arrests.
National Roads Policing Intelligence Forum (NRPIF) Chair, Detective Superintendent Paul Keasey said:
"As the operational lead for Operation Trivium I am delighted to see the whole team get the recognition it deserves. Across the nine operations we have made real strides in disrupting organised crime networks, enhancing road safety, and building strong links with our key European partners.
"I am grateful to HRH Prince Michael and the judges for this award which will help us raise the profile of Op Trivium and expand our ability to keep everyone safe on the roads here and on the continent."
TISPOL General Secretary Ruth Purdie said:
"Operation Trivium has consistently made best use of real-time intelligence combined with leading-edge enforcement technology to identify and dismantle sophisticated mobile criminal groups all across Europe. These cross-border criminal networks represent serious harm to some of the most vulnerable people in society, as well as to the communities and businesses they target.
"We are proud that the good practice and effective partnership working demonstrated by Operation Trivium should be honoured with a Prince Michael Award. Trivium showcases good practice in cross-border enforcement, as well as the importance of intelligence sharing and the benefits to all sides of effective partnership working."
Notes to editors:
Now in its 31st year, the International Road Safety Awards led by HRH Prince Michael of Kent has played a leading role in supporting improved road safety both in the United Kingdom and around the world.
Latest results from Operation Trivium:
Operation Trivium 9 Provisional UK Results

9th October 2017 - 13th October 2016 (final results)

Total Vehicles Stopped

Total Vehicles Seized

Total Number of People Encountered

Total Number of People Arrested

Enforcement (penalties issued, advice & other)

Intelligence Submissions

Vehicle stopped as a result of ANPR hits

6336

232

6254

183

3879

273

516
The key objectives of Operation Trivium 9 were:
Disrupting criminality through denying foreign national mobile organised crime groups the use of the road;
To enhance road safety
Increasing the UKs understanding and intelligence of foreign national offenders from a crime and counter terrorism perspective; i.e. identifying criminal links and new modus operandi
Enhancing levels of trust and confidence in local communities through delivering enforcement and educational activity that is designed to 'tackle criminality not the community'; and
Ensuring that all avenues of legislation both criminal & civil are considered to disrupt, deter and detect unlawful behaviour.
The Prince established his awards scheme in 1987 in the UK and now fully international, the Prince Michael International Road Safety Awards recognize achievement and innovation in road safety worldwide.
Each year the most outstanding examples of international road safety initiatives are given public recognition through the scheme and the winners are invited to a Gala Presentation held in London, where the Prince announces his Premier Award for that year.