Getting drugs off our roads – Christmas drink and drug drive campaign results
27 Jan 2016
More drug drivers than ever before have been caught during our national drink and drug drive campaign.
The campaign, which ran from December 1 - 31, saw 1888 drug screening devices administered by officers with nearly 50 per cent of people stopped found to be under the influence of drugs. More people were detected in December than in the whole of 2014.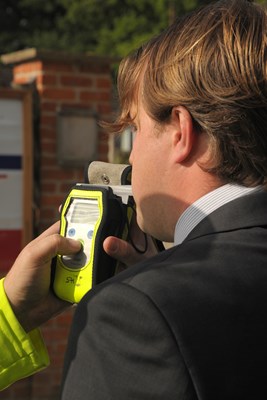 New legislation, which covers 17 legal and illegal drugs with appropriately low limits for illegal drugs, and drug detection devices being available to all forces has made it easier to identify and prosecute drug drivers.
National Police Chiefs' Council lead for Roads Policing Chief Constable Suzette Davenport said:
"These results show that new legislation and detection devices have helped us to keep the roads safe. Officers across the country using their local knowledge and intelligence to focus on high risk locations are better equipped than ever to catch drivers who are under the influence of drink or drugs, even at very small amounts. Over the last Christmas, we detected and prosecuted more people than ever who have taken the very dangerous risk of driving while after taking drugs."
During the Christmas period, forces across the country followed an intelligence-led approach that saw an increase in alcohol tests showing a positive, failed or refused reading. While the percentage of drivers tested fell, officers targeted drink drive hotspots to catch more peopledriving when under the influence.
There are encouraging indications that anti-drink drive messages are reaching the under 25s. Nationally there has been a drop in the number of positive readings within this age group, suggesting that the majority of young drivers are avoiding alcohol when taking to the roads.
CC Davenport said:
"Throughout the year forces will remain alert to the threat of people who are driving under the influence of intoxicants and will continue to catch those who take this risk and endanger innocent drivers, cyclists and pedestrians"
If at any time of the year you suspect someone is driving while unfit to do so, please report it immediately to your local police on 101 (or 999 if they are posing imminent danger) or report anonymously to Crimestoppers on 0800 555 111.
Notes to editors:
CC Davenport's availability for interview will be checked but cannot be guaranteed.
The NPCC only issues national figures and does not provide a force-by-force breakdown.
Explanation of positive, refused or failed.
Positive is when a driver is proven by the breathalyser to be over the legal limit
Refused is when a driver refuses to give an officer a specimen of breath
Failed is when a driver offers to give a specimen of breath, but it is not sufficient to determine a result.
This is the first Christmas campaign where new drug detection devices have been used.
Results
| | | | | |
| --- | --- | --- | --- | --- |
| | 2012 | 2013 | 2014 | 2015 |
| Total breath tests administered NOT involving collisions | 149287 | 161496 | 110037 | 80387 |
| Total of those that were positive, refused or failed | 5161 | 4841 | 4106 | 3525 |
| % of total tested that were positive, failed or refused | 3.46 | 3 | 3.73 | 4.38 |
| | | | | |
| Total breath tests administered FOLLOWING collisions | 26544 | 29974 | 23959 | 19925 |
| Total of those that were positive, refused or failed | 1962 | 1709 | 1779 | 1454 |
| % of total tested that were positive, failed or refused | 7.39 | 5.70 | 7.43 | 7.29 |
| | | | | |
| Total number of breath tests administered to UNDER 25s | 37402 | 37940 | 28228 | 19746 |
| Total of those that were positive, refused or failed | 1970 | 1675 | 1788 | 1062 |
| % of total tested that were positive, failed or refused | 5.27 | 4.41 | 6.33 | 5.37 |
| | | | | |
| Total number of breath tests administered to 25 YEARS AND OVER | 137617 | 139550 | 102555 | 71753 |
| Total of those that were positive, refused or failed | 4668 | 4482 | 4042 | 3297 |
| % of total tested that were positive, failed or refused | 3.39 | 3.21 | 3.94 | 4.59 |
| | | | | |
| Total number of FIELD IMPAIRMENT TESTS conducted | 360 | 513 | 335 | 281 |
| Total of those that resulted in a Section 4 arrest | 77 | 143 | 78 | 124 |
| % of total tested that resulted in a Section 4 arrest | 21.39 | 27.88 | 23.28 | 44.12 |
| Total number of drug screening devices administered | | | | 1888 |
| Total number of positive drug screening device tests | | | | 931 |
| % of total tested that were positive | | | | 49.31 |
| | | | | |
| TOTAL BREATH TESTS ADMINISTERED | 175831 | 191040 | 133996 | 110,226 |
| TOTAL OF THOSE THAT WERE POSITIVE, FAILED OR REFUSED | 7123 | 6550 | 5885 | 5543 |
| % OF TOTAL TESTED THAT WERE POSITIVE, FAILED OR REFUSED | 4.05 | 3.42 | 4.39 | 5.02 |