A message from the new Senior National Co-ordinator for CT Policing - DAC Neil Basu QPM
28 Oct 2016
It is a great privilege to be asked to co-ordinate the UK's counter terrorism policing effort at this critical time. The increasing tempo and enduring nature of terrorist activity worldwide is causing global anxiety. We understand it. As soon as Daesh started to lose on the battlefields abroad, it was clear their tactics would be directed closer to home. The evidence has been plain to see with the horrors suffered repeatedly by those in France, Germany and Belgium. We all, quite understandably, start to get concerned.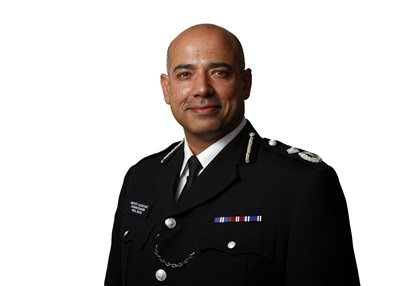 But the criminals who commit these acts of terrorism cannot be allowed to change our way of life, foster hatred or divide our communities. Together we will not let that happen. And in the main, thanks to the extraordinary work of the police and security and intelligence services we have been able to stop attacks and protect the public. However, events like the murder of British nationals in Tunisia and the brutal assassination of Lee Rigby, ensure we are never complacent about the threat.
Under the leadership of my predecessor, Helen Ball, and national CT lead Mark Rowley, working closely with the Security Service, we have been able to deliver many of the key aims of our country's counter terrorism strategy (CONTEST). And this has all come at a time of unprecedented threat going back over two years now.
This was largely related to the emergence of Daesh in Syria and Iraq, but that's not the whole story. The UK counter terrorism network has had to also focus on many other issues, including domestic extremism and the rise of the far right as well as managing the risk posed by other extremist groups. The continuing threat from Northern Ireland-related terrorism and Al-Qaida also remains present, with supporters of both seeking to act.
While the police and security services are doing everything we can to pursue suspects and help bring terrorists to justice, we depend on the support of the public and our partners to successfully confront the threat.
Of course, we'd rather prevent violent extremism in the first place, which is why we remain committed to supporting the effort to stop vulnerable people being drawn towards radicalisation. The public can help by reporting concerns about people they fear are becoming exposed before they descend into criminality and violence – this is what Prevent is all about. Increasingly case referrals are coming from partner agencies, who now have a statutory duty to support the aims of Prevent. It has to be a partnership approach if ongoing successes are to be built upon. Working together, police and partners have effectively reduced vulnerability in nearly 1000 cases in 2015. Our successful 'Prevent Tragedies' campaign continues to reach families who are thinking about travelling with their children to the most dangerous places on earth. We also seek to prevent the spread of terrorist propaganda through social media, and have a world leading Counter Terrorism Internet Referral Unit (CTIRU), which works with the industry to identify and take down this degrading material.
The next best way to confront the threat is to operate on the front foot and arrest perpetrators before they have a chance to act. We continue to work at a relentless pace with our key partners, currently dealing with around 550 live cases at any one time. The counter terrorism network and security services has successfully foiled at least 10 attacks in the last two years, with 294 convictions for terror-related offences. The public play a crucial role too, by remaining alert to suspicious behaviour and dialling 999 or calling the Anti-Terrorist Hotline (0800 789 321) when they see something that looks odd or simply out of place. Every call is treated seriously and no piece of information is considered too small or insignificant. We are also stopping people travelling to Syria to fight whilst taking action against those who have fought and seek to return. With the public's help we are denying platforms for hate preachers and are continuing to prosecute people who peddle hate and plan attacks wherever and whenever we can. This is what Pursue is all about.
Next we want to make the UK a hostile place for terrorists. We already have an effective government strategy, good policing and established security and intelligence measures, all working hand in glove by sharing data, people and skills to protect the public. We have rigorous and effective gun laws and, as an island, natural borders made even stronger by good policing. But to stop the terrorist from even contemplating an attack in the UK remains the aim of Protect and again, it needs public support.
It needs the public to be alert but not alarmed and to report anything suspicious; to take care of their possessions and be aware of who is around them and what they are doing. Terrorists need to plan and they will be anxious whilst doing it, they will look stressed and under pressure, they will act unnaturally, they will be particularly worried if they are approached. The public can be our eyes and ears, reporting unusual behaviour report it immediately.
We will be out in greater numbers and even more visible in crowded places – sometimes armed, sometimes not. Backed up by extensive CCTV monitoring we will utilise multiple policing resources including, the dog and horse units, plain-clothes police and helicopters. We will be present at the most iconic and crowded sites and will cover the entire transport network with the invaluable work of the British Transport Police and Transport for London. Our message is not to be afraid if you see more officers with firearms, they are there to protect us and to deter those who mean us harm.
Our Griffin and Argus initiatives see officers train security guards, businesses, event managers and the staff of crowded places, including offices, schools, transport hubs and entertainment venues. Security guards and those in industry are a natural extension of policing and are working with us to make their venues even more secure so we can get on and enjoy our lives. Specific Griffin and Argus events, and the creation of community safety zones, coupled with tight security with alert employees makes it very hard for terrorists to plan or carry out an attack. By training the trainer we will reach many more people and 300 businesses have already pledged to deliver Griffin security training to their staff. This work is led by our National Counter Terrorism Security Office (NaCTSO), in partnership with the security services, and the NaCTSO website provides clear and accessible information to help businesses and individuals protect themselves.
Despite all of our essential prevention work it is a sad fact that terrorist attacks can and do happen But if the worst were to take place we are ready, both to respond with maximum effect and to recover – this is what Prepare is all about.
Armed assets are increasing dramatically across the whole of the UK and by being better equipped we are better able to reach a scene quickly, gain control and stop the threat. 'Run Hide Tell' messaging ensures the public know what to do if caught up in an incident. Simple instructions that can save lives, have a real impact, allowing all of us to prepare mentally and take control when the need arises. We urge the public to watch the video and learn it.
The only way for us to prevent terrorism in this country is for the police to be the public and the public to be the police. Communities will defeat terrorism. Strong, cohesive communities, whatever their religion, race, creed or colour, working together to keep this country safe.