Forces to crack down on drink and drug driving this Christmas
03 Dec 2021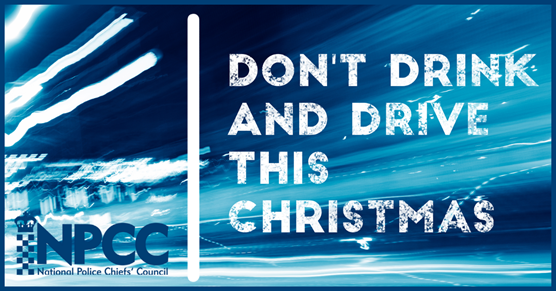 Police chiefs warn anyone getting behind the wheel after a festive drink or two that they face the prospect of ending up behind bars this Christmas.
Police will be intensifying activity around those who choose to drink or take drugs and drive this month, as the annual Christmas roads policing operation commences. Officers will be out in force across the UK to ensure road users and the wider community are kept safe from harm this festive season.
Information published by the road safety charity Brake shows that even when someone is only just over the legal limit, they are still six times more likely to be involved in a fatal collision than someone who has drunk nothing.
Police will be stopping anyone suspected of drink or drug driving, operating stop sites across the country and performing both breath and drug testing. Anyone found to be over the limit will face the full force of the law.
During last year's operation, a total of 50,317 vehicles were stopped, with 42,613 screening breath tests and 6,217 screening drug tests administered. This resulted in 6,730 motorists caught drink or drug driving during the period of enforcement activity, with 58% (3,917) of those being drink drive offences and 42% (2,813) drug drive offences.
Last Christmas, we were all subject to restrictions on gatherings because of the pandemic, resulting in the amount of vehicle journeys being reduced. As people are set to have a much more normal Christmas this year, police want to remind the public that under no circumstances should they be driving after drinking or taking drugs.
National Police Chiefs' Council lead for Roads Policing, Chief Constable Jo Shiner said:
"Police officers tackle drink and drug driving every day of the year. Our national winter enforcement operation serves to highlight the dangers and consequences of driving under the influence of alcohol or drugs, and reminds the public that this criminal behaviour is deeply irresponsible and socially unacceptable.

"If you do drive under the influence of drink, drugs, or both, you are putting your own safety at risk, the safety of everyone in your vehicle, and the safety of every other road user you come across on your journey.

"We do not want police officers knocking on doors over the festive period to deliver the worst news imaginable to the loved ones of someone killed or seriously injured by such reckless and selfish behaviour.

"Enjoy the festivities but do not drive under the influence of drink or drugs, it's as simple as that. When you are stopped by police you will be prosecuted and banned from driving. You will also be fined and could go to prison."
Officers across the UK will be on patrol morning and night to catch people who flout the law.
Drivers risk up to six months' imprisonment, an unlimited fine and a substantial driving ban if they are caught driving while above the legal limit. Anyone who causes a death while drink or drug driving faces up to 14 years' imprisonment.