Counter-terrorism arrests up by a third in the last year
15 May 2015
National Lead for Counter Terrorism, Assistant Commissioner Mark Rowley announced the latest national counter terrorism (CT) arrest statistics today, Thursday 14 May as they outlined how the police service is tackling the current threat from terrorism both at home and abroad.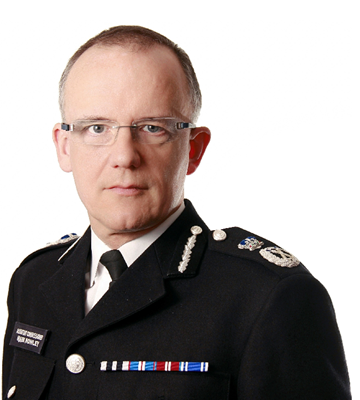 Alongside Commissioner Sir Bernard Hogan-Howe, Metropolitan Police Service, AC Mark Rowley gave the latest arrest figures to demonstrate the increasing scale of the challenge. In the last financial year [April 2014 - March 2015] there were 338 counter-terrorism related arrests, a 33 per cent increase on the 254 arrests last year. 157 [46 per cent of the total arrested] were linked to Syria and, worryingly, 56 are under 20-years-old, which is an emerging trend.
These arrests range from fundraising for extremist causes right through to facilitation, preparation and execution of terrorist attack plans. Non-terrorism legislation is also frequently and effectively used to disrupt extremists, with a significant number being arrested for criminal offences such as fraud.
The rise in activity is reflected by the fact that there are currently 114 people awaiting trial for CT-related offences. This follows the successful prosecution of 89 people, who were convicted in the last financial year, including Brusthom Ziamani who was convicted of engaging in preparation of terrorist acts and was sentenced to 22 years' imprisonment.
AC Rowley said: "The officers from the CT network across the country, supported by officers from mainstream policing and colleagues from the security services, are working with professionalism, dedication and commitment on hundreds of CT investigations across the country. The type and level of threat is complex and ranges from lone actors intent on carrying out crude and violent attacks to sophisticated networks set on completing ambitious and coordinated plots."
Around 700 extremists are believed to be among the many Britons who have travelled to Syria, a significant proportion travelling to join ISIL
AC Rowley continued: "ISIL and other terrorist groups are trying to direct attacks in the UK; encouraging British citizens to travel to Syria to fight and train; and are seeking, through propaganda, to provoke individuals in the UK to carry out violent attacks here."
As part of the online fight against terrorism the Counter Terrorism Internet Referral Unit (CTIRU), which is part of the National Counter Terrorism Network continues to assess terrorist and violent extremist material on the internet. The unit is proactive in its approach to terrorist content, but also receives referrals through a public online reporting tool that allows members of the public to report their concerns anonymously. Anyone with concerns about material should use the online reporting tool at www.gov.uk/report-terrorism <http://www.gov.uk/report-terrorism>
At the moment, during an average week, the unit is removing over 1,000 pieces of Terrorism Act 2006 (TACT) breaching content. Approximately 800 of these are Syria/Iraq-related and posted on multiple platforms.
We continue to reach out to communities, on a one-to-one level as well as through campaigns and initiatives to raise awareness, to dissuade people from being drawn into violence and warn of the consequences of travelling to Syria. The prevent programme is enabling us to work closely with other statutory agencies and community groups to safeguard those vulnerable to radicalisation and prevent them from being drawn into terrorism and we will continue to direct our efforts into supporting individuals who may be at risk.
AC Rowley added: "There is no doubt of the horrific nature of the offences being committed overseas. The influence of those who wish to bring similar violence to the streets of the UK has been an increasing threat here. The rise in level of activity is matched by increased action by police and security services, who are currently working on hundreds of active investigations. We cannot be complacent and will continue to work with our partners, and especially the people of the UK, to do everything we can to stop those who intend to spread fear and bring harm to others.
"The public should remain vigilant and report anything suspicious to the anti-terrorist hotline on 0800 789 321."
+ Approximate proportion of those arrested that are then charged is around 50% (up on what was around 40% in previous years)
+ Of the 700 extremists that we believe have travelled to Syria, around half have returned
+ Of the national arrests just over 50% are London-based