Armed policing numbers boosted with more specially trained officers
17 May 2018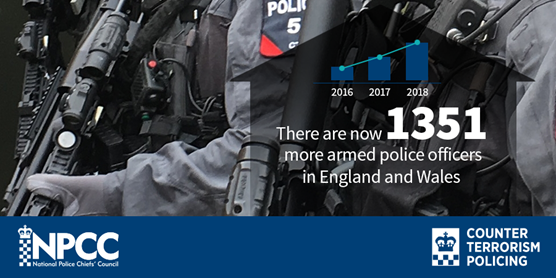 The number of firearms officers ready to protect the public in England and Wales has risen by 1351 since April 2016.
In the two years since the Home Office (HO) announced a £143million programme to increase policing's firearms capability, HO forces have increased their total number of firearms officers by 874. These officers are based in areas considered to be at greatest threat or with geographical challenges.
The overall figure of 1351 additional firearms officers includes the increase from non-Home Office forces such as the British Transport Police, Civil Nuclear Constabulary and Ministry of Defence Police, who could surge to provide additional support in the event of a major incident.
As a result, the number of Armed Response Vehicles (ARV) available to protect the public in England and Wales has increased by more than 25 per cent.
In any given 24-hour period there are approximately 55 more ARVs patrolling England and Wales than in April 2016, meaning forces are able to respond to major incidents such as terrorist attacks faster and with greater numbers.
This increase is bolstered by a 70 per cent increase in the number of the highest-trained Counter Terrorism Specialist Firearms Officers (CTSFO), who are taken from the ARV ranks and given additional training.
Significant investment has also been made to improve the training and equipment provided to armed officers so they are able to deal with a broader range of threats.
"Police chiefs are committed to our model of policing with a routinely unarmed service at its core. At the same time, we need to be sure we have the right level of armed policing to meet threats to the public", says the National Police Chiefs' Council Lead for Armed Policing, Deputy Chief Constable Simon Chesterman.

"The overwhelming majority of England and Wales has very good coverage from armed response vehicles. We are continuing to review and discuss options with some forces with harder to reach rural communities, including arming of some response officers.

"Any change would decided by chief constables based on threat and risk and with wide consultation. Our analysis suggests this is not necessary now but it remains an option on the table.

"Overall, though, forces are now better equipped to respond swiftly to serious threats to public safety, such as the recent terror attacks.
"The increase in the number of highly-trained CTSFOs means that we can move more quickly to resolve major incidents and be more proactive when confronting a threat.
"The public will have seen this improved response in action during the London Bridge terror attack, when ARVs were able to respond incredibly quickly to stop the attackers without having to wait for specialist officers or Special Forces."
However, armed policing remains a voluntary role and the recruitment, training and retention of officers remains a challenge for all forces.
"How we treat firearms officers in the rare instance that they discharge their weapon does influence the willingness of people to take up this role, and they naturally have concerns about the impact it can have on the welfare of themselves and their families," says DCC Chesterman.
"It is absolutely right that we scrutinise the decision-making in those rare instances, and the speed in which the Independent Office for Police Conduct (IOPC) currently investigates our response to terrorist incidents is greatly appreciated, but we want to work with them to reduce delays and deliver quicker investigations for all other instances in which our officers have discharged their weapons."