APCC & NPCC Partnership Summit 2021: Speech by NPCC Chair Martin Hewitt
18 Nov 2021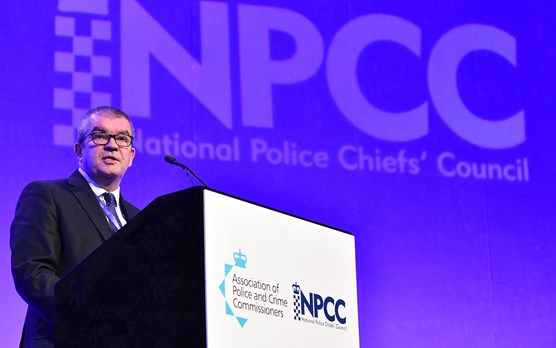 Good morning and welcome everyone.
This is the first time many of us have been together since our last summit in February 2020, and I want to start by extending a very warm welcome to the new chief constables and police and crime commissioners who are here today.
I have thought hard about how I wanted to open this summit and how to reflect on this year's themes of driving performance and building trust.
For last year, Covid has been the game changer for us - disrupting how we all live, requiring an unparalleled policing response to a national crisis, and shining a real light on the professionalism and reliability of our service across the UK.
Our role in the national response to the pandemic continues to this day – it's less visible now, but it's still there, and to a certain extent taken for granted.
We policed frequently changing regulations, and for much of that time those regulations were different in each of the four countries of the UK, but we did it with one policing approach. And confidence and support remained largely steady throughout.
But I think we would all agree that we are now operating against a backdrop of an altogether different public mood.
The legitimacy and effectiveness of UK policing is built on our relationship with the public. It is the most important relationship we have, and it is under strain – and it's most acutely under strain in our relationship with Black people and with women.
There are long-standing and well documented challenges in our relationship with Black communities - the confidence gap of 10 to 20 per cent compared with the national average remains deeply concerning. Racial disparities exist in our service that we still cannot fully explain.
Then there is a deeply felt, and again long-standing, concern from women that the criminal justice system does not protect them or bring them justice when they experience violent and sexual crimes that have a devastating impact on their lives. That concern and desire for change has been brought into sharp focus by the murders of Sarah Everard, of Biba Henry and Nicole Smallman, and of Sabina Nessa. And of course we all know in this room that many more women die through violence each year.
Far too many women are asking themselves if the police are on their side in tackling violence against them, and if they can trust us to help them. The weekend following the sentencing of Sarah Everard's murderer, as I took in what that meant for policing, was one of the lowest points in all my years of service, and I've no doubt that a similar sentiment was felt by all the decent and hardworking people in policing.
We can't claim to police by consent if any community or section of society doesn't trust us and doesn't believe in what we are doing.
So I believe that this is a defining moment for policing. People will look back at how we responded. But more importantly people are looking at us right now.
So, what do we need to do?
Firstly, we've got a responsibility to reflect and to avoid defensiveness.
We must be honest with ourselves that misogynistic attitudes and behaviours that exist in society exist in policing too. And it matters more in policing because of the powers that we hold and because our legitimacy is built on trust and confidence.
We need to promote, protect and nurture the right culture in policing. All of us need to reflect on how we as individuals demand and support a culture that is inclusive for both our own staff, but also for the people we serve. And we must be more open, more alert to, and more challenging of, behaviour or actions that undermine that culture.
That means everyone in the service must call out and challenge behaviour that betrays our professional and ethical standards. As leaders, we need to engender a culture that enables and supports all of our people to do just that.
We also need to take every possible step to root out those who do not uphold our standards. As the NPCC, we have asked all chief constables:
To chair accelerated hearings wherever the grounds are met, to swiftly determine the facts, to exonerate the innocent, but to remove those guilty of misconduct from the service.
To make submissions to the chairs of those independent panels, wherever appropriate, so that sanctions always meet the gravity of an offence.
And to seek judicial review when a decision has been made to retain someone in the service who we believe undermines our culture and the standards that the public rightly expect of us.
A review has already started to ensure that sanctions guidance reflects the seriousness, particularly of any misconduct related to violence against women and girls, or disrespectful behaviour towards victims, and we will be working with the College of Policing to make sure any changes that are needed are made.
In the coming months, the public will see officers sanctioned or leaving the service after misconduct processes and we must not shy away from that.
We know that the overwhelming majority of officers and staff are serving to a high standard in some of the most difficult circumstances. But swiftly dealing with police officers or staff members that need to be removed from the service is a demonstration of our values; our intolerance of those who don't uphold them, and our action to maintain them. We must be as open and transparent about misconduct processes as we can be so that this statement of our values is heard loudly and clearly.
Secondly, we should all remember that our performance and the daily individual actions of our officers and staff is what actually drives trust.
We've got to demonstrate that we will respond fairly and in doing so, shift the perceptions of those who don't believe that to be the case.
Equally we need to show what we are doing is something meaningful or useful by making people safer, by responding where crime occurs and striving to be one step ahead on future threats.
We must be relevant, which means we must adapt to deal with those public safety threats that concern the public. If we don't, we will lose legitimacy.
It is our performance, our actions, and our usefulness to the communities we serve that will drive improved levels of trust.
Thirdly, we can't let honest reflection lead us to a despondency or allow a story of our culture to take hold that focuses only on the very worst elements.
Our culture leads to incredible acts of bravery on a day-to-day basis and a can-do mentality to some of the toughest operational issues and societal challenges.
There is, or there should be, no fear in our reflection and learning. Policing has always developed and responded to the challenges that we face.
Without such a confident approach that we have, we could not have policed as effectively as we have through the complexities of the pandemic - or continually balanced the right to protest against the needs of public safety - or have so successfully planned and delivered police operations at both the G7 Summit in Cornwall and very recently at COP26 in Glasgow.
So I think it is right we reflect on some of our achievements in this extraordinary period since we last met in February 2020.
As I just alluded to, those two policing operations at the G7 and COP26 ran on quite an incredible scale and drew on the capability of every force in the UK.
We've now also surpassed the half-way mark in the recruitment of an additional 20,000 police officers by 2023, and it is really encouraging to me that between July and September this year women accounted for 45 per cent of all new joiners.
When the public consider crime, they often think of the violent crime that we work so hard to tackle. And one good example of this effort from all forces are the national county lines intensification weeks, which ran in March and October this year.
These weeks target those who control the lines and are often responsible for the exploitation of young people and the violence that blights communities.
Across the two periods over 2,500 people were arrested and more than 3,700 vulnerable individuals, including thousands of children, were engaged by policing for safeguarding purposes. We took 600 weapons off the streets.
And in October alone, around £2 million worth of Class A drugs were seized alongside over a million pounds in cash and 139 drug lines were successfully identified and seized.
That represents performance in action and importantly also represents excellent joint working between forces across all the UK and the National Crime Agency.
And demand remains extremely high, with 999 calls hitting over 34,000 a day this summer, compared with 29,000 calls a day the year before. We're talking about levels that we'd normally be expecting to experience on New Year's Eve and it highlights how we are increasingly stepping in as the service of both first and often last resort in the face of some of the most challenging problems that are faced by society.
Polling by YouGov and the Crime Survey of England and Wales consistently showed confidence and support was exceptionally high at the height of the pandemic and remained steady, as we prioritised our enforcement against those who committed the most egregious breaches of the regulations and were putting people's lives at risk.
I was really impressed at the resilience of policing during the pandemic. Along with other services we initially planned for absence rates of up to 40 per cent. But the highest recorded absence we had was in March 2020, where nationally we reached just under 16 per cent. But that was for a very short period of time, and beyond that we never went above 10 per cent absence across the whole of the country.
Having been the GOLD commander for the national police response to Covid-19 it would be remiss of me not to take this opportunity to recognise and to thank each and every police officer and member of staff across the UK for going above and beyond the call of duty during the pandemic. That showed us the selfless best of the service, and a true determination of how we step in to protect our communities.
And none of this would be possible without the robust and outcomes focussed service that we are.
So yes, there are flaws that must be addressed, but equally there is an indisputable strength within our culture that we must channel and use to deliver the best possible service to the public and build greater levels of trust.
Finally, we have an opportunity now and we must embrace it.
I believe that while confidence in the criminal justice system may be low, there is still a public recognition of the difficult job police officers do and an underlying level of trust that we must now work harder than ever before to enhance.
The spending review announcement in October, overall, feels positive for policing, particularly the three-year settlement that allows us to plan, to invest, and most importantly to drive improved outcomes on crime and public safety.
Since we last met we have tackled significant challenges. We are looking hard at ourselves and how the public see us. We're responding proactively to both the performance challenges and the legitimacy challenge.
We must now drive forward with an ambitious agenda for the next three years.
I am extremely proud to be a police officer. Across policing there is a constant desire and a determination for improvement. I hope we all take the opportunity at this summit to take the space for us to discuss how we address our challenges, how we build on our strengths and how we continue to drive better performance for the public.