All police forces to join week long intensification against knife crime
16 Sep 2019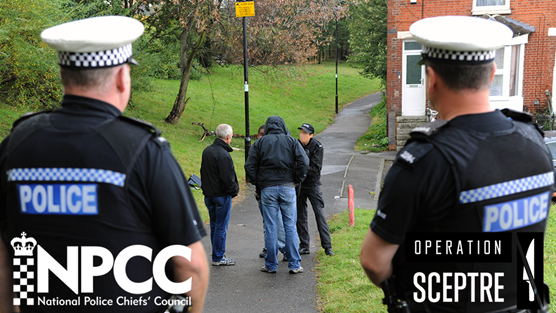 All police forces will be intensifying their work against knife crime this week as a national operation gets underway which will see forces use a range of tactics like intelligence led stop and search and weapons sweeps.
Operation Sceptre runs until Sunday 22nd September and sees all 44 forces, including British Transport Police, build on the current work officers are doing to tackle serious violence.
During the week police officers will work with children and young people to educate them on the risks of carrying a knife. Youth groups and schools will be visited by community officers to highlight support services available.
Other activity throughout the week will include test purchasing and action to target habitual knife carriers.
Many forces will ensure their local shops are enforcing the law by restricting the sale of knives to anyone under the age of 18. Test purchasing will see police volunteers attempt to buy blades. Retailers found to be breaking the rule can face up to six month imprisonment, a fine of £5,000, or both.
National Police Chiefs' Council Lead for Knife Crime, Deputy Assistant Commissioner Duncan Ball, said:
"Bringing violence down is a police priority. For the second time this year, Operation Sceptre will bring together all police forces in England and Wales in a coordinated effort to tackle knife crime.

"This week of intensification will see intelligence led stop and search, weapons sweeps and community engagement. Officers will carry out test purchasing operations to see if retailers are selling knives to those under the age of eighteen.

"Preventing young people from carrying knives is not something police forces can do alone. Early intervention to steer young people away from violence and action to tackle the root causes are crucial."
Minister for Crime, Policing and Fire, Kit Malthouse said:
"We're doing everything in our power to tackle the scourge of knife crime including supporting the police as they take wide ranging and assertive action on the streets, making it easier for them to use Stop and Search and recruiting 20,000 more officers to do it.

"The causes of violence are complex and difficult to address, but we must strain every sinew and use every tool at our disposal to make our streets ever safer."