ACC Chris Shead - Our officers volunteered to help those in need in the aftermath of Hurricane Irma
05 Dec 2017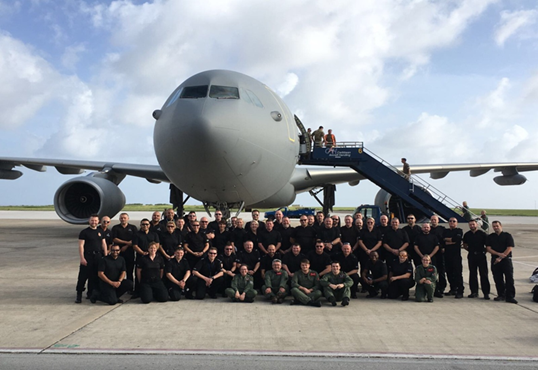 As 2017 nears its close, this year - more than most – has seen awards ceremonies reflecting on the bravery of those in the emergency services - those who run towards the incident, potentially putting themselves at risk, in the hope of helping those who need it. So this year's theme for UN International Day for volunteers, "Volunteers Act First" recognising the contributions of first responders in times of crisis, is fitting given our deployment to the overseas territories.
This year, the British police response to the British Virgin Islands hit by Hurricane Irma exemplified the best of our volunteering culture in policing.
I lead the National Police Coordination Centre (NPoCC), which deploys police officers and staff from across UK policing to support other forces during large scale events, operations and in times of national crisis like large scale flooding and civil emergencies. We also manage requests for support from overseas.
The day after the hurricane hit BVI, we received an official request for support in maintaining law and order and supporting the local police as they coped with the desolation caused by the hurricane. The next 48 hours were busy as we worked with the Foreign and Commonwealth Office, the Home Office and the military to ensure police officers could be a part of the support effort.
I am immensely proud of our police officers, who were so quick to volunteer when the call came. They were under no obligation to do so but did because they wanted to help people in crisis. Across the three deployments, a total 167 British officers from 39 forces across the country went to BVI and Anguilla.
This was not an easy operation for our officers. The TV coverage did not do justice to the horrifying levels of destruction. Every single officer would admit that while they had very basic accommodation and rations in comparison to many they were incredibly fortunate. Nevertheless, the experience was tough for them and for their families at home who are affected by the decision to volunteer and understandably worry about their loved ones.
Our officers' main role was to offer support to the local police forces, but when off duty a significant amount of their time was spent offering humanitarian aid and engaging with local communities. "Rest days" in BVI were often filled with additional volunteer work - much of it focusing on improving the lives of children, many of whom had no access to education once the disaster struck.
Officers met with local children in the most deprived area of Tortola, taking them sweets bought from their own funds and helping charity Team Rubicon to rebuild a local classroom. The team on Virgin Gorda helped to remove a damaged roof on a local school, enabling the local children to continue their education in a safe building.
Our officers will forever remember the warmth and courage of those communities and we hope our deployment will leave a positive legacy of UK police support to those on BVI and Anguilla.
Back in the UK, we take learnings from this expedition and the challenges it posed. It has been a reminder of the impact on the health and wellbeing of officers deployed to distressing situations like this and the need for us to ensure the right provisions are in place to support them when deployed and on their return. We've also had to consider the impact of officers being away from their home forces and the gaps that they leave which need to be covered by colleagues. Given that this was the first time we have deployed so many officers abroad in recent years I am sure many learning's will be made from this.
Volunteering manifests itself in many ways. Our officers went above and beyond to help people thousands of miles away, but everyday incredible people support the police to do our job – both in crisis and every day policing.
Members of the Special Constabulary have the same powers as regular officers; they wear an almost identical uniform, carry the same equipment and receive exactly the same training as regular officers. They make a significant contribution to policing in their county – taking part in foot patrols or responding to reports of missing people, working with specialist policing teams such as roads policing, protecting vulnerable people or community partnership teams.
Cadets between the ages of 13-18 volunteer an average of three hours per month working in their communities on crime prevention and social action projects, such as helping local officers with crime prevention initiatives and test purchasing operations, or assisting with local events such as carnivals, county shows and remembrance parades.
And others volunteer to help us by bringing their skills and expertise in administration, social media, training or supporting victims.
Today I want thank all those who volunteer in policing, and particularly those officers and staff who gave their time to help the people of British Virgin Islands and Anguilla when they needed it. Volunteers are a key part of the policing family and there are many ways you can get involved. If you're inspired by our officers then go to the website for more information www.citizensinpolicing.net
ACC Chris Shead
Strategic Lead NPoCC